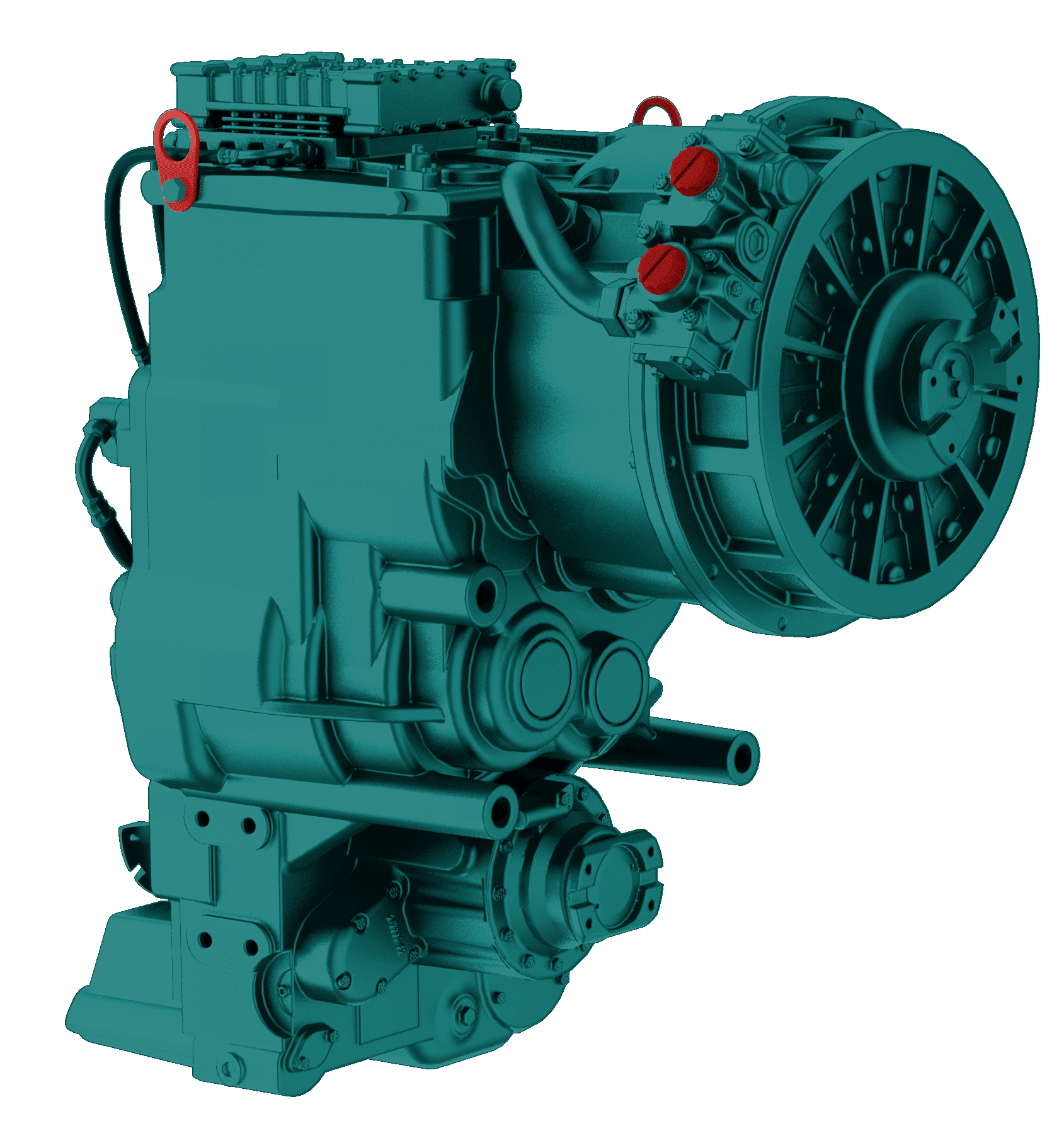 ZF Off-Highway Transmissions
Centranz specializes in remanufacturing ZF off-highway transmissions. We rebuild many of these transmissions every year and are a primary provider for many equipment dealers and manufacturers in North America. We also manufacture replacement parts for these transmissions.
Our 50+ years of experience in this industry has allowed us to develop a transmission exchange program that is consistent with OEM expectations.
Click here to learn more about the Industry's Best Warranty.
In every ZF Off-Highway Transmission we remanufacture, we replace or rebuild for maximum durability as follows:
REBUILT TORQUE CONVERTER
NEW CHARGING PUMP
NEW FRICTION & STEELS
NEW BUSHINGS
COMPLETE SEAL & GASKET KITS
NEW BEARINGS
NEW SOLENOIDS
NEW INDUCTIVE TRANSMITTERS (SPEED SENSORS)
DYNO TESTED
ZF Transmissions for Terex Equipment
| | | | |
| --- | --- | --- | --- |
| ZF Transmission Model | Terex Transmission Model | Terex Equip Model | ZF Assembly |
| 6WG180 ZF Transmission | 15267273 Terex Transmission | 2366 | 4644006209 |
| 6WG200 ZF Transmission | 15250501 Terex Transmission | 25/2766C | 4644026090 |
| 6WG200 ZF Transmission | 15236693 Terex Transmission | 23/2566 | 4644026214 |
| 6WG200 ZF Transmission | 15248333 Terex Transmission | 25/2766B | 4644026262 |
| 6WG200 ZF Transmission | 15256453 Terex Transmission | 25/2766C | 4644026310 |
| 6WG210 ZF Transmission | 15302528 Terex Transmission | TA25/27 | 4657056015 |
| 6WG210 ZF Transmission | 15309578 Terex Transmission | TA25/27 | 4657056032 |
| 6WG210 ZF Transmission | 15311593 Terex Transmission | TA25/27 | 4657056042 |
| 6WG200 ZF Transmission | 15050502 Terex Transmission | 25/2766C | 4644026092 |
| 6WG200 ZF Transmission | 15248336 Terex Transmission | 3066 | 4644026227 |
| 6WG250 ZF Transmission | 15251360 Terex Transmission | 3066C | 4646006055 |
| 6WG260 ZF Transmission | 15256668 Terex Transmission | 3066C | 4646056003 |
| 6WG260 ZF Transmission | 15308943 Terex Transmission | TA30 | 4646056018 |
| 6WG260 ZF Transmission | 15307802 Terex Transmission | TA30 | 4646056022 |
| 6WG260 ZF Transmission | 15311594 Terex Transmission | TA30 | 4646056031 |
| 6WG260 ZF Transmission | 15312139 Terex Transmission | TA30 | 4646066007 |
| 6WG310 ZF Transmission | 15258782 Terex Transmission | TA35/40 | 4646076009 |
| 6WG310 ZF Transmission | 15307730 Terex Transmission | TA35/40 | 4646076012 |
| 6WG310 ZF Transmission | 15311595 Terex Transmission | TA35/40 | 4646076019 |
| 6WG310 ZF Transmission | 15303735 Terex Transmission | TA35/40 | 4646076020 |
| 6WG310 ZF Transmission | 15316809 Terex Transmission | TA35/40 | 4646086018 |
| 6WG65 ZF Transmission | 15248339 Terex Transmission | 4066B | 4616006001 |
| 6WG65 ZF Transmission | 15250259 Terex Transmission | 4066C | 4616006003 |
| 6WG65 ZF Transmission | 15257156 Terex Transmission | 4066 | 4616006007 |
ZF Transmissions for MOXY Equipment
| | | |
| --- | --- | --- |
| ZF Transmission Model | MOXY ADT Model | ZF Assembly |
| 6WG200 | 6225/6227 | 4644026011 |
| 6WG200 | 6225/6227 | 4644026063 |
| 6WG200 | MT30S | 4644026191 |
| 6WG200 | | 4644026199 |
| 6WG200 | 6225/6227 | 4644026201 |
| 6WG200 | | 4644026275 |
| 6WG200 | | 4644026277 |
| 6WG200 | | 4644026198 |
| 6WG260 | MT31 | 4646066001 |
| 6WG260 | MT31 | 4646066012 |
| 6WG260 | MT31 | 4646066026 |
| 6WG310 | MT40B | 4646076004 |
| 6WG310 | MT40B | 4646076013 |
| 6WG65 | MT40 | 4616006005 |
ZF Transmissions for John Deere Equipment
ZF Transmission Model
Deere Reb P/N
Deere Loader Model
ZF Assembly
4WG130
AT209716
TC62H
4657024017
4WG130
AT209714
444H
4656024015
4WG130
AT222001
444H
4656024020
4WG130
444H
4656024025
4WG130
444J
4656024026
4WG150
AT188405
544E
4642054003
4WG150
AT188405
544E
4642054012
4WG150
AT188405
544E
4642054019
4WG150
AT178006
544G
4642054041
4WG150
AT178015
544G
4642054206
4WG160
AT209715
544H
4656054015
4WG160
AT222002
544H
4656054020
4WG160
544H
4656054040
4WG160
544J
4656054057
4WG180
AT188406
624E
4644004102
4WG180
AT188406
624E
4644004123
4WG180
AT188406
624E
4644004215
4WG180
AT178009
624G
4644004164
4WG180
AT178008
624G
4644004213
4WG190
AT209716
624H
4657024017
4WG190
AT222003
624H
4657024021
4WG190
624J
4657024034
4WG200
AT188407
644E
4644024007
4WG200
AT188407
644E
4644024207
4WG200
AT188407
644E
4644024209
4WG200
AT178011
644G
4644024048
4WG200
AT178012
644G
4644024087
4WG210
AT209717
644H
4657054016
4WG210
AT222004
644H
4657054025
4WG210
644H
4657054055
4WG210
644J
4657054068
4WG260
AT209544
744H
4646054015
4WG260
744H
4646054049
4WG260
744J
4646054073
4WG310
AT308384
844K
4646074025
MT-2075
AT184406
see tab
44750190XX
MT-2075
AT195929
see tab
44750190XX
WG92-S4
AT171541
310E/G
4660001017
WG92-S4
AT171544
310E/G
4660001018
WG92-S4
AT173766
410E
4660001019
WG92-S4
AT171767
410E
4660001020
WG92-S4
HP6500/8500
4660001025
WG92-S4
CB11460244
210LE
4660001026
WG92
AT168397
310E/G
4660002012
WG92
AT168400
310E/G
4660002013
WG92
AT178730
410E/G
4660002014
WG92
AT178731
410E/G
4660002015
WG92
AT308300
410G
4660002029
WG92
AT308301
410G
4660002030
WG92
CB11460246
210LE
4660002032
WG98
AT168398
710E
4660003012
WG98
AT168401
710E
4660003013
WG98
AT192354
710G
4660003017
WG98
AT192352
710G
4660003019
WG98
AT308713
710G
4660003020
WG98
AT308714
710G
4660003021
ZF Transmissions for Case Equipment
| | | | |
| --- | --- | --- | --- |
| ZF Transmission Model | CNH Reb P/N | Case Loader Model | ZF Assembly |
| 4WG130 | 361424A1R | 521D | 4656024017 |
| 4WG150 | LR127731 | 621 | 4642054014 |
| 4WG150 | LR129926 | 621B | 4642054018 |
| 4WG150 | 241952A1R | 621B | 4642054052 |
| 4WG160 | 196172A1R | 621C | 4656054019 |
| 4WG160 | 318999A1R | 621D | 4656054025 |
| 4WG180 | LR127201 | 721 | 4644004207 |
| 4WG180 | LR127202 | 721B | 4644004208 |
| 4WG180 | LR129912 | 721 | 4644004219 |
| 4WG180 | LR129353 | 721 | 4644004220 |
| 4WG190 | 196173A1R | 721C | 4657024026 |
| 4WG200 | LR124591 | 821 | 4644024014 |
| 4WG200 | 183098A1 | 821B | 4644024065 |
| 4WG200 | 183093A1R | 721B | 4644024100 |
| 4WG200 | 241954A1R | 821B | 4644024131 |
| 4WG210 | 196174A1R | 821C | 4657054026 |
| 4WG200 | 241953A1R | 721B | 4644024135 |
| 4WG200 | LR129917 | 821 | 4644024216 |
| 4WG250 | 114363A1R | 921 | 4646004037 |
| 4WG250 | 241955A1R | 921B | 4646004066 |
| 4WG260 | 380529A1R | 921C | 4646054010 |
ZF Transmissions for Liebherr Equipment
| | | |
| --- | --- | --- |
| ZF Transmission Model | Liebherr Crane Model | ZF Assembly |
| 6WG260 | LTM1080 | 4646056005 |
| 6WG260 | LTM1080 | 4646056016 |
ZF Transmissions for Lull and Sky Trak Equipment
| | | |
| --- | --- | --- |
| ZF Transmission Model | Make/Model | ZF Assembly |
| 3WG100 | Lull644 | 4651003011 |
| 4WG100 | Lull844 | 4651004017 |
| 4WG100 | Sky Trak 8042,10042,10054 | 4657004048 |
| 4WG98TC | Sky Trak 6063,06042 | 4660013001 |
| 4WG98TS | Sky Trak 4266,4270, 4288 | 4660023002 |