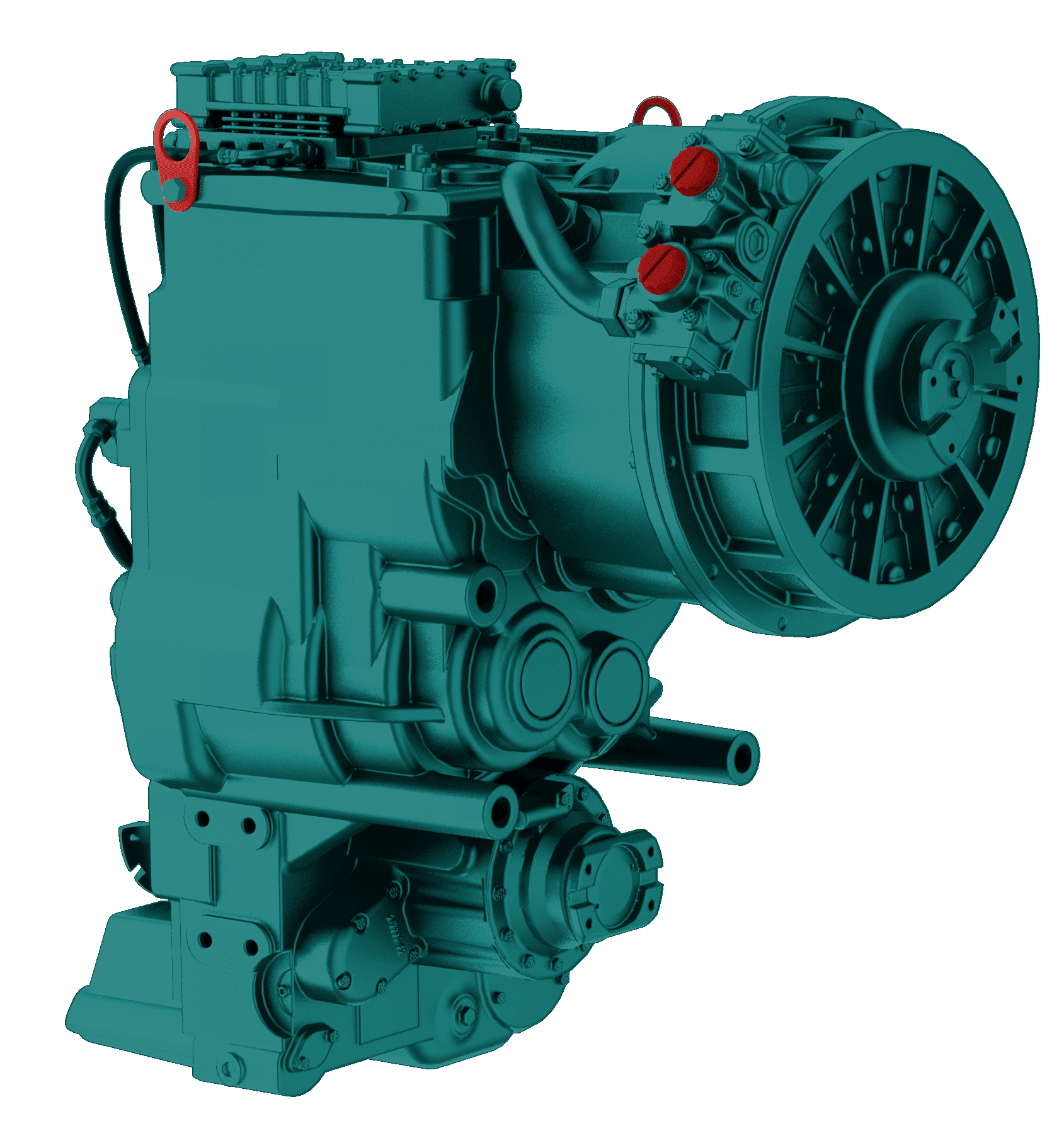 ZF Off-Highway Transmissions
Centranz specializes in remanufacturing ZF off-highway transmissions. We rebuild many of these transmissions every year and are a primary provider for many equipment dealers and manufacturers in North America. We also manufacture replacement parts for these transmissions.
ZF off-highway transmissions fit a wide range of equipment, including Terex dump trucks, Moxy dump trucks, John Deere wheel loaders, CASE wheel loaders, Liebherr cranes and SkyTrak and Lull telehandlers, among many others.
Our 50+ years of experience in this industry has allowed us to develop a transmission exchange program that is consistent with OEM expectations.
In every ZF Off-Highway Transmission we remanufacture, we replace or rebuild for maximum durability as follows:
REBUILT TORQUE CONVERTER
NEW CHARGING PUMP
NEW FRICTION & STEELS
NEW BUSHINGS
COMPLETE SEAL & GASKET KITS
NEW BEARINGS
NEW SOLENOIDS
NEW INDUCTIVE TRANSMITTERS (SPEED SENSORS)
DYNO TESTED
ZF Transmissions for Terex Equipment
| | | | |
| --- | --- | --- | --- |
| ZF Transmission Model | Terex Transmission Model | Terex Equip Model | ZF Assembly |
| 6WG180 ZF Transmission | 15267273 Terex Transmission | 2366 | 4644006209 |
| 6WG200 ZF Transmission | 15250501 Terex Transmission | 25/2766C | 4644026090 |
| 6WG200 ZF Transmission | 15236693 Terex Transmission | 23/2566 | 4644026214 |
| 6WG200 ZF Transmission | 15248333 Terex Transmission | 25/2766B | 4644026262 |
| 6WG200 ZF Transmission | 15256453 Terex Transmission | 25/2766C | 4644026310 |
| 6WG210 ZF Transmission | 15302528 Terex Transmission | TA25/27 | 4657056015 |
| 6WG210 ZF Transmission | 15309578 Terex Transmission | TA25/27 | 4657056032 |
| 6WG210 ZF Transmission | 15311593 Terex Transmission | TA25/27 | 4657056042 |
| 6WG200 ZF Transmission | 15050502 Terex Transmission | 25/2766C | 4644026092 |
| 6WG200 ZF Transmission | 15248336 Terex Transmission | 3066 | 4644026227 |
| 6WG250 ZF Transmission | 15251360 Terex Transmission | 3066C | 4646006055 |
| 6WG260 ZF Transmission | 15256668 Terex Transmission | 3066C | 4646056003 |
| 6WG260 ZF Transmission | 15308943 Terex Transmission | TA30 | 4646056018 |
| 6WG260 ZF Transmission | 15307802 Terex Transmission | TA30 | 4646056022 |
| 6WG260 ZF Transmission | 15311594 Terex Transmission | TA30 | 4646056031 |
| 6WG260 ZF Transmission | 15312139 Terex Transmission | TA30 | 4646066007 |
| 6WG310 ZF Transmission | 15258782 Terex Transmission | TA35/40 | 4646076009 |
| 6WG310 ZF Transmission | 15307730 Terex Transmission | TA35/40 | 4646076012 |
| 6WG310 ZF Transmission | 15311595 Terex Transmission | TA35/40 | 4646076019 |
| 6WG310 ZF Transmission | 15303735 Terex Transmission | TA35/40 | 4646076020 |
| 6WG310 ZF Transmission | 15316809 Terex Transmission | TA35/40 | 4646086018 |
| 6WG65 ZF Transmission | 15248339 Terex Transmission | 4066B | 4616006001 |
| 6WG65 ZF Transmission | 15250259 Terex Transmission | 4066C | 4616006003 |
| 6WG65 ZF Transmission | 15257156 Terex Transmission | 4066 | 4616006007 |
ZF Transmissions for MOXY Equipment
| | | |
| --- | --- | --- |
| ZF Transmission Model | MOXY ADT Model | ZF Assembly |
| 6WG200 | 6225/6227 | 4644026011 |
| 6WG200 | 6225/6227 | 4644026063 |
| 6WG200 | MT30S | 4644026191 |
| 6WG200 | | 4644026199 |
| 6WG200 | 6225/6227 | 4644026201 |
| 6WG200 | | 4644026275 |
| 6WG200 | | 4644026277 |
| 6WG200 | | 4644026198 |
| 6WG260 | MT31 | 4646066001 |
| 6WG260 | MT31 | 4646066012 |
| 6WG260 | MT31 | 4646066026 |
| 6WG310 | MT40B | 4646076004 |
| 6WG310 | MT40B | 4646076013 |
| 6WG65 | MT40 | 4616006005 |
ZF Transmissions for John Deere Equipment
MT-2075AT184406see tab44750190XX
| | | | |
| --- | --- | --- | --- |
| ZF Transmission Model | Deere Reb P/N | Deere Loader Model | ZF Assembly |
| 4WG130 | AT209716 | TC62H | 4657024017 |
| 4WG130 | AT209714 | 444H | 4656024015 |
| 4WG130 | AT222001 | 444H | 4656024020 |
| 4WG130 | | 444H | 4656024025 |
| 4WG130 | | 444J | 4656024026 |
| 4WG150 | AT188405 | 544E | 4642054003 |
| 4WG150 | AT188405 | 544E | 4642054012 |
| 4WG150 | AT188405 | 544E | 4642054019 |
| 4WG150 | AT178006 | 544G | 4642054041 |
| 4WG150 | AT178015 | 544G | 4642054206 |
| 4WG160 | AT209715 | 544H | 4656054015 |
| 4WG160 | AT222002 | 544H | 4656054020 |
| 4WG160 | | 544H | 4656054040 |
| 4WG160 | | 544J | 4656054057 |
| 4WG180 | AT188406 | 624E | 4644004102 |
| 4WG180 | AT188406 | 624E | 4644004123 |
| 4WG180 | AT188406 | 624E | 4644004215 |
| 4WG180 | AT178009 | 624G | 4644004164 |
| 4WG180 | AT178008 | 624G | 4644004213 |
| 4WG190 | AT209716 | 624H | 4657024017 |
| 4WG190 | AT222003 | 624H | 4657024021 |
| 4WG190 | | 624J | 4657024034 |
| 4WG200 | AT188407 | 644E | 4644024007 |
| 4WG200 | AT188407 | 644E | 4644024207 |
| 4WG200 | AT188407 | 644E | 4644024209 |
| 4WG200 | AT178011 | 644G | 4644024048 |
| 4WG200 | AT178012 | 644G | 4644024087 |
| 4WG210 | AT209717 | 644H | 4657054016 |
| 4WG210 | AT222004 | 644H | 4657054025 |
| 4WG210 | | 644H | 4657054055 |
| 4WG210 | | 644J | 4657054068 |
| 4WG260 | AT209544 | 744H | 4646054015 |
| 4WG260 | | 744H | 4646054049 |
| 4WG260 | | 744J | 4646054073 |
| 4WG310 | AT308384 | 844K | 4646074025 |
| MT-2075 | AT195929 | see tab | 44750190XX |
| WG92-S4 | AT171541 | 310E/G | 4660001017 |
| WG92-S4 | AT171544 | 310E/G | 4660001018 |
| WG92-S4 | AT173766 | 410E | 4660001019 |
| WG92-S4 | AT171767 | 410E | 4660001020 |
| WG92-S4 | HP6500/8500 | | 4660001025 |
| WG92-S4 | CB11460244 | 210LE | 4660001026 |
| WG92 | AT168397 | 310E/G | 4660002012 |
| WG92 | AT168400 | 310E/G | 4660002013 |
| WG92 | AT178730 | 410E/G | 4660002014 |
| WG92 | AT178731 | 410E/G | 4660002015 |
| WG92 | AT308300 | 410G | 4660002029 |
| WG92 | AT308301 | 410G | 4660002030 |
| WG92 | CB11460246 | 210LE | 4660002032 |
| WG98 | AT168398 | 710E | 4660003012 |
| WG98 | AT168401 | 710E | 4660003013 |
| WG98 | AT192354 | 710G | 4660003017 |
| WG98 | AT192352 | 710G | 4660003019 |
| WG98 | AT308713 | 710G | 4660003020 |
| WG98 | AT308714 | 710G | 4660003021 |
ZF Transmissions for Case Equipment
| | | | |
| --- | --- | --- | --- |
| ZF Transmission Model | CNH Reb P/N | Case Loader Model | ZF Assembly |
| 4WG130 | 361424A1R | 521D | 4656024017 |
| 4WG150 | LR127731 | 621 | 4642054014 |
| 4WG150 | LR129926 | 621B | 4642054018 |
| 4WG150 | 241952A1R | 621B | 4642054052 |
| 4WG160 | 196172A1R | 621C | 4656054019 |
| 4WG160 | 318999A1R | 621D | 4656054025 |
| 4WG180 | LR127201 | 721 | 4644004207 |
| 4WG180 | LR127202 | 721B | 4644004208 |
| 4WG180 | LR129912 | 721 | 4644004219 |
| 4WG180 | LR129353 | 721 | 4644004220 |
| 4WG190 | 196173A1R | 721C | 4657024026 |
| 4WG200 | LR124591 | 821 | 4644024014 |
| 4WG200 | 183098A1 | 821B | 4644024065 |
| 4WG200 | 183093A1R | 721B | 4644024100 |
| 4WG200 | 241954A1R | 821B | 4644024131 |
| 4WG210 | 196174A1R | 821C | 4657054026 |
| 4WG200 | 241953A1R | 721B | 4644024135 |
| 4WG200 | LR129917 | 821 | 4644024216 |
| 4WG250 | 114363A1R | 921 | 4646004037 |
| 4WG250 | 241955A1R | 921B | 4646004066 |
| 4WG260 | 380529A1R | 921C | 4646054010 |
ZF Transmissions for Liebherr Equipment
| | | |
| --- | --- | --- |
| ZF Transmission Model | Liebherr Crane Model | ZF Assembly |
| 6WG260 | LTM1080 | 4646056005 |
| 6WG260 | LTM1080 | 4646056016 |
ZF Transmissions for Lull and Sky Trak Equipment
| | | |
| --- | --- | --- |
| ZF Transmission Model | Make/Model | ZF Assembly |
| 3WG100 | Lull644 | 4651003011 |
| 4WG100 | Lull844 | 4651004017 |
| 4WG100 | Sky Trak 8042,10042,10054 | 4657004048 |
| 4WG98TC | Sky Trak 6063,06042 | 4660013001 |
| 4WG98TS | Sky Trak 4266,4270, 4288 | 4660023002 |
[google-reviews-pro place_photo=https://centranz.com/wp-content/uploads/2013/01/shield.png place_name="Centranz, Inc." place_id=ChIJ-17RHMEFwYcRPFeUeucMgBo auto_load=true rating_snippet=true disable_user_link=true view_mode=badge_inner]